Suspended Track Lighting System
Suspended LED track lighting system is an ideal option for a project with high ceiling, and some special spaces with arc or sloped ceilings. This lighting system is suspended by using wires to mount the track from the ceiling, the length of wires is adjustable to hang the light at a desired height. In addition to the required height purpose, suspended track lighting can also offer a more aesthetic look to decorate the interior spaces. With the suspended track lighting, you can design the layout and place light according to your space requirements.
Suspended track lighting system is the perfect solution as it is simple and flexible to install, and further more, it's affordable to help save money for your lighting projects and maintenance. This system is usually used in grocery stores, galleries, restaurants, retail stores and some public or residential spaces with high ceilings. The suspended track can not only fit the track spot light fixtures to effectively highlight products, furnishings and art crafts on display, but also work with wall washer fixtures to focus the light on the pictures on the wall.
At Sampo Lighting, you can notice that we have single phase (two wire & three wire) and triple phase (four wire) LED light rail available to meet your lighting circuit requirements. The regular lengths of track include 1.0m, 1.5m, 2.0m and 3.0m, we also can cut the track to your requirements. With multiple pieces with same or different lengths, you can use some connectors and accessories to join them together and build straight lines, square shapes, L Shapes, H shapes, L Shapes, and other layouts you may require.
In the range of suspended track connectors and accessories that we supply, it's same as our surface mounted track lighting system, includes power feed, end cap, I-connector, L-connector, T-connector, X-connector, and flexible connectors to build the different shapes of layout mentioned above, and suspending wires and kits are also available for hanging the track from the ceiling, the quantity depends on the track lengths and track pieces that you would apply.
As for the track light fixtures, a variety of models and powers are available in our range, such as 10w, 12w, 15w, 20w, 25w, 30w, 40w etc. Our regular colors have black and white, and other bespoke colors are available to meet with different requirements, The beam angles of the track lights at 15°/24°/38°/60° are optional according to user's requests. In general, narrow beam angles are used to highlight some artworks, plants, and other particular objects, and wide beam angles are used to build an ambient atmosphere. Our track light heads are made of premium COB chips to provide high efficiency as well as long lasting usage, and that's the reason why it can help save you much money on maintenance and replacements.
Color temperatures are be the factors that you might take into the consideration. We often have a range of 3000K-5000K that we call as warm white, which is closer to candlelight or fire, it's suitable for residential spaces or other commercial projects with more mild and relaxing ambience. With regard to the color temperature between 5000K and 6000K, we often call it as cool white, it's closer to natural daylight, and perfect for commercial or working environments, such as grocery stores, retail stores, offices or somewhere else that bright light is required.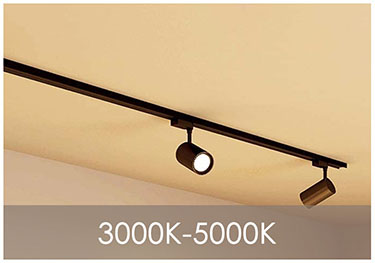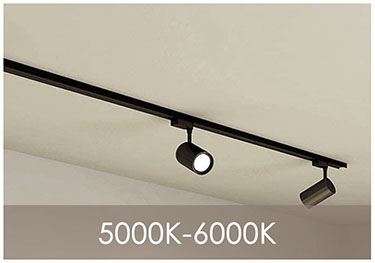 In addition to Suspended Track Lighting, Surface Mounted Track Lighting and Recessed Track Lighting are also available for mounting options.