Surface Mounted Track Lighting System
Surface mounted LED track lighting system provides easy installation and convenient maintanance for users, as the layout can be made directly to the ceiling, so it is a popular option for commercial and residential lighting solutions, such as grocery stores, retail stores, showrooms, galleries, living rooms, dinning rooms, kitchens, and so on. This surface mounted track lighting system make the lighting projects more stunning and appealing.
At Sampo Lighting, you can find 2-wire, 3-wire and 4-wire in our range of LED light rail, all of them are designed to meet different user's needs and requirements. Each modal has compatible accessories and kits for flexible lighting placements, the track can be connected at straight lines, L-corners, T-junctions, cross-junctions, in addition, the track can come with a flexible connectors at any angle by request. With all these, we can help you make the best replacement for your space. Please click the track rail series below to check out which one is on your options.
Surface mounted track is available in a variety of regular lengths, such as 1.0m, 1.5m, 2.0m, 3.0m, and the track can also be made to a customized length as requested, and multiple track pieces can be connected to create straight lines, L-shapes, T-shapes, X-shapes, squares, and any other lighting layouts you might require. Addition to the straight track, we also can customize the track pieces with curved shape to build a circle or arch shapes.
In our range of track light fixtures, we have a variety of models and offer 10w, 12w, 15w, 20w, 25w, 30w and 40w as power. Black and white are our regular colors, and customized colors are also available on request. The beam angles of the track lights are optional and also customizable to meet with different requirements, generally speaking, wide beam angles are used to offer an ambient atmosphere, and narrow beam angles are used to highlight some plants, artworks and other particular objects.
Track lights are usually produced with LED chips, which feature with energy saving as well as premium quality, and its long lifespan help you save much time and money for maintenance and replacement.
Color temperatures are also important to be considered for your track lighting projects, when the lighting fixtures come with a range between 3000K-5000K, we usually call it warm white color temperature, which is similar to fire or candle light, it's and ideal option for residential and other relex and mild environments. If you would like to create a clear and bright ambience, which is similar to natual daylight to meet with grocery stores, clothing stores and other commercial applications, the range is between 5000K-6000K, we call it cool white color temperature.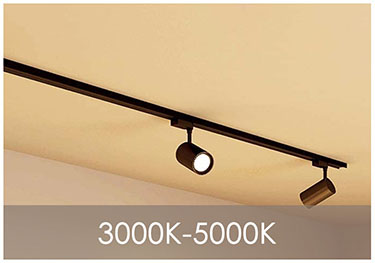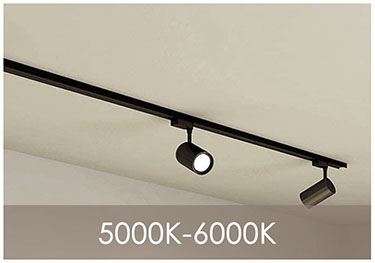 In addition to Surface Mounted LED Track Lighting, Recessed Track Lighting and Suspended Track Lighting are also available for mounting options.