Two-Wire Track Rail
YZ6203 Track Rail
2-wire and 1-phase ceiling light track system.

Extruded alum-alloy profile.

High performance at thermal conductivity.

Surface finished with powder coating.

White & black color are available.

Varied types of connectors are available.

2 pcs of copper strips for electrical conductivity.

The copper strips conduct well at power supply.

Flame-retarded PVC strips ensure electrical safety.

Accessories are available for suspended mounting.

YZ6203 lighting track rail is for 2-wire and 1-phase Ceiling light track rail systems to fix lighting fixtures and provide power. The track rail body was made of premium extruded alum-alloy profile, comes with 2 pieces of copper conducting strips, which are insulated by flame-retarded PVC material. This track rail is compatible with several types of connectors and accessories for versatile lighting layouts and designs.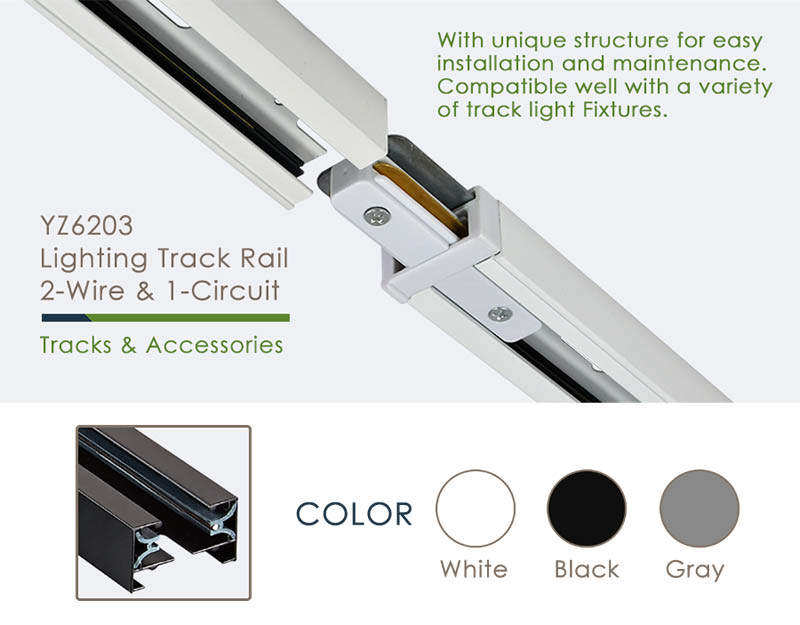 Stunning designed and well surface finished with powder coating, regular colors are white and black, and other custom colors are available.
Specifications
| | |
| --- | --- |
| Item No. | YZ6203 |
| Brand | Sampo |
| Wire type | Two-Wire |
| Circuit type | One-Circuit |
| Material | Extruded alum-ally profiles |
| Surface Finished | Powder coating |
| Colors | White, black, customized |
| Size | 34mm x 21mm |
| Length | 1.0 / 1.5 / 2.0 / 3.0M |
| Certificated | CE, RoHS |
| Application | Indoor commercial |
| Packing | Carton |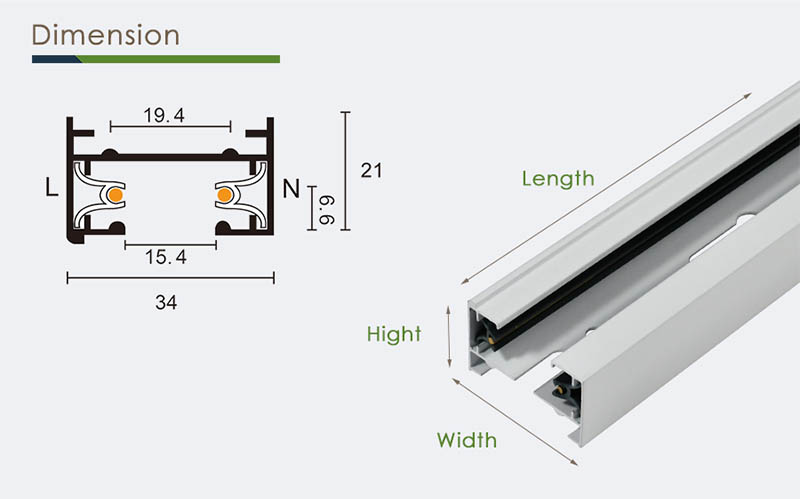 Optional Length: 1.0 / 1.5 / 2.0 / 3.0 Meter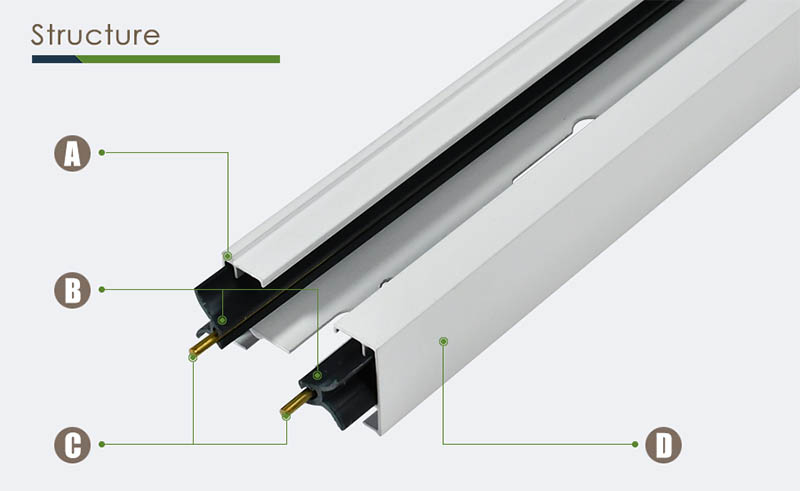 A. Housing was made of alum-alloy profile that is durable and good at thermal conductivity.
B. Flame-retarded PVC strips come with good insulation to ensure electrical safety.
C. Premium copper strips have high performance at electrical conductivity.
D. The surface of this ceiling light rail was finished with powder coating, available with white, black, and other colors.